Recent Posts
1
Progress on Summoners Fate deck builder continues, I should be ready to put that video demo together tomorrow.
For today, I'd like to share a fellow RPG tactics indie developer's game that just released on Steam Early Access called Fell Seal, Arbiter's Mask. Like us, 6EyesStudio is a husband and wife team, also ex-EA, and also creating a tactical RPG... crazy, right?! Their game is shaping up quite nicely and as we're all tactics fans here, you should definitely check it out!
Fell Seal: Arbiter's Mask
https://store.steampowered.com/app/699170/Fell_Seal_Arbiters_Mark/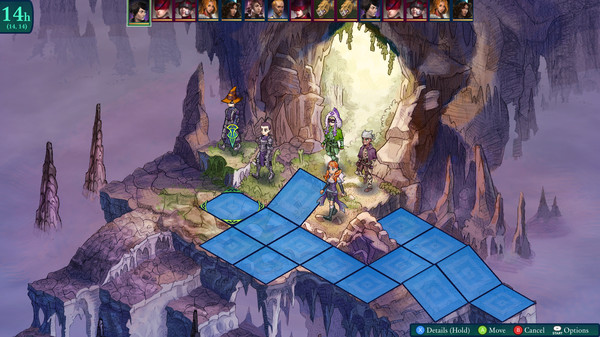 2
Today's development update: Continued progress on the deck builder system. It never ceases to amaze me just how much work it takes to get these user interface components just right, especially when overloading the controls for multiple functions. For example: swiping right/left flips through your pages of cards, but there's also a gesture to drag the card to your deck. Fine tuning these things so they feel intuitive and flow with the user's intentions is a delicate art of micro tweaks, rebuilding, and testing constantly. Considerations for desktop must also be made: more precision sensitivity, additional next page/prev page controls. Finally, one very interesting observation I've made is the need to change the layout of the portrait controls. While it's intuitive to place navigation at the top (when you're on a desktop or playing in landscape), it's incredibly difficult to build decks with one hand with essential controls at the top of device. I aim to solve that tomorrow and show some screenshots and a possible video.
3
Fight!
All the remains after the bloody battle is the
Orc Chief
versus the
Dreadnought Titan
. Who shall emerge victorious?...
4
Giant Stag Beetle in Action
It's no secret that the
Insectoids
are one of my favorite races of Summoners Fate. We may be adding some exciting changes to this race to make them even more unique. In the meantime, check out the animation feature for one of my favorites, the Giant Stag Beetle:
Learn more about this creepy crawler
here
.
5
Thank You!
Thank you for the outpouring of support and thumbs up from our gamers about
our announcement
yesterday. We are getting things prepared to unveil Summoners Fate at PAX West, and hope to meet some of you in person. More details to come!
GameDev
Today Ross worked on the deck builder. Check out some progress posts
here
,
here
and
here
.
6
« Last post by Scribe on August 10, 2018, 01:19:10 PM »
Congratulations for getting the exposure at Pax West!
I hope you guys get maximum visibility!
7
We're excited to announce that Summoners Fate has been selected to showcase at Pax West 2018 in Seattle with IndieMEGABOOTH! Another chapter begins in our indie development journey:
Check out our IndieMEGABOOTH page here:
https://indiemegabooth.com/project/summoners-fate/
8
Hey guys - Today I got the deck editor interface hooked up in the game and had some fun making some rather interesting custom decks. New functionality includes the ability to create new custom decks, delete custom decks, and select custom deck as your playable team.
Here's a screenshot of the WIP:
9
Today, I was continuing work on the deck builder UI and realized I needed a better starting point to access the actual deck builder interface and a way to separate other card related functions. Keeping with the theme of immersing the game menu within the game engine itself, I thought it would be interesting to try a sub-menu where the map zooms in to the respective component (in this case the card tortoise) and create simple contextual buttons to access specific items. Here's how it might look. Keep in mind that the last image is just a quick placeholder mockup I spliced in, and we'll have an appropriate art driven UI for the final as well as the tortoise continuing to animate. Let me know what you think!


10
Combo!
Check out this gameplay video with an awesome combo ending. Lining up those combos and utilizing your characters' auto counter attacks makes for some great strategic victories! Watch: